High Quality BMW ICOM A B C Firmware Only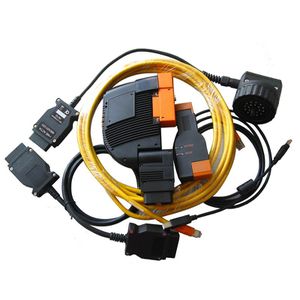 BMW ICOM A B C Firmware Only at High Quality is a newly launched product who replace DIS GT1/SSS/OPS and OPPS. All BMW series(Include Mini and ROLLS RYCE can be processed with the BMW ICOM A B and C-modules for function diagnosing and programming.
Description:
ICOM A: Vehicles with OBD capability (Connect to ISIS/SSS/ISID with LAN or WAN).
ICOM B: For programming with MOST port (Connect to MOST in vehicle / to ICOM-A with USB system.
ICOM C: Older model series with diagnosis socket in engine compartment (OBD 2).
3G Components:
Integrated Service Information Server (I S I S) two servers (one backup) + ISTA.
Integrated Service Information Display (ISID) portable tablet device.
Integrated Communication Optical Module (ICOM) set of vehicle interface devices-all models.
Integrated Measurement Interface Box (IMIB) measurement interface device.
Integrated Service Access Point (ISAP) for wireless connection to ISIS.
TIPS: Price is only for firmware of BMW ICOM A B C. We also provide BMW ICOM With Newest Native Software.
More related topics
Mercedes-Benz S320 electric windows sometimes can not lift
Delphi DS150E VCI Bluetooth Scanner For Car And Truck