GM MDI Scanner Multiple Diagnostic Interface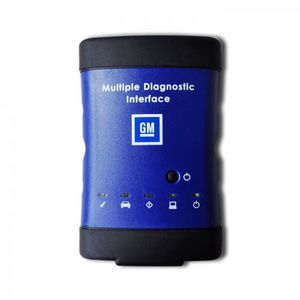 GM MDI Multiple Diagnostic Interface is professional diagnosis & programming tool for GM group vehicles includes GM,GM NAO,OPEL,SAAB and so on. PLEASE NOTE: this one does not with WLAN function.
GM Multiple Diagnostic Interface (MDI) Programming Solution Bundle!
* The GM MDI Unit is a compact communication module that manages the transfer of data between a vehicles on board ECU network and a PC.
* With your included TiS SPS subscription you can always access the most current General Motors vehicle control module calibrations.
* The GM MDI Unit has an easy to grip, comfortable, rugged enclosure.
* The GM MDI Programming Solution Bundle allows the user to perform Pass-Thru programming procedures using software running on a laptop or desktop PC.
* Using the GM MDI Unit for programming frees up your Tech 2 for diagnostics.
* User can perform Data transfer and Electronic Control Unit (ECU) reprogramming.
* The GM MDI Unit has shop network communications (LAN and WLAN) capabilities.
* Future expandability, including diagnostic applications.
* GM MDI is also available without TiS SPS subscription.
You can buy software for GM MDI from here:
https://www.acdelcotds.com/acdelco/action/subscribehome
Our GM MDI will have 100% diagnose & programming functions with those software.
Kit includes: the GM MDI, Ethernet and USB cables, cable keeper, power adapter, data link cable, MDI users guide (CD), and four AAA batteries.
More related topics
VAS 5054A Diagnostic Tool With OKI With Buzzer And ODIS
VAS 5054A VW AUDI SKODA SEAT Diagnostic Tool Good Quality