LAUNCH Creader V Code Reader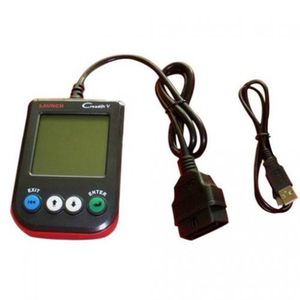 LAUNCH CReaderV Code Reader is newly developed by LAUNCH, specially designed for car owners or DIYs to diagnose any vehicle that is compliant to OBDII/EOBD. It not only can read/clear DTCs, but also can read live data in 2 modes, and perform many special tests.
Languages: English, French, Spanish.
Specification:
Display: Backlit, 160 x 160 pixels
Operating Temperature: 0 to 60°C (32 to 140 F°)
Storage Temperature: -20 to 70°C (-4 to 158 F°)
Power: 8 to 18 Volts provided via DLC
Unit Dimensions: 126 mm×88 mm×22 mm(Length×Width×Thickness)
Test Cable length: 0.9m
Features:
1. Read Codes
2. Erase Codes
3. View Freeze Data
4. Data Stream
Entire Data list
Custom Data list
5. Special Tests
I/M Readiness
MIL Status
O2 Sensor Test
On-board monitor test
EVAP system test
Vehicle Info
6. Code Lookup
About Us
Go2obd.net - Professional Auto Diagnostic Tools Supplier. Our main products includes LAUNCH X431,Autel Scanner, OEM OBD Scan Tool, Car Key Program Tool, ECU Tunning Tool and so on. If you have any problems, don't hesitate to contact us, send email to oliviatang099@gmail.com. We acts as a reliable car scanner devices in China for 5 years. We are proving auto diagnostic tools at low price but in high quality.
More related topics
Mercedes Benz MB Star Diagnose C4 ( SD Connect ) With Latest Xentry
Mercedes Benz MB Star C3 Diagnosis With Latest Software