Audi launched high-performance version RS 6/RS 7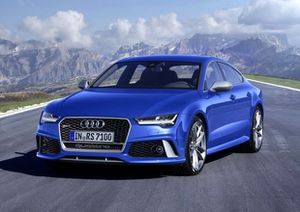 In all of Audi models, RS is the byword of highest performance, but for the RS models has been introduced, Audi is not satisfied. Recently, Audi officially released a set of Audi RS 6 Avant and Audi RS 7 Sportback two higher-performance version model official figure.
This release two new models in sport appearance of RS 6 Avant and RS 7 Sportback to further adjustments, the bumper of the new car will change, air intake area will be larger, in front of the painting also changes to black, below the mid grid gate with the words "QUATTRO". In the rear, the new car also use new style rear diffuser. Overall, these two high-performance version is more movement.
It is reported that Audi RS 6 Avant high-performance version will use 285/30 R21 tires, while the Audi RS 7 Sportback high-performance version will use 275/30 R21 tires. These two cars all use high performance brake system, while can choose carbon fiber ceramic brake system.
In the interior, two high-performance version model changes also reflected in many details. Many place of the new car inside use the same color matching with the car body color, seat is the new RS sports seats, use Alcantara/leather material wrapped.
In power, as high performance model, these two cars will be powered 4.0TFSI V8 engine through the new adjustment, this engine's maximum power is 605 horsepower and peak torque of 700 Nm, compared to the previous engine increase 605 horsepower. In addition, in overboost mode, this engine's peak torque can reach 750 Nm, let it have stronger performance in short time.
In transmission part, these two cars are with specifically-tuned 8-speed automatically gearbox and equipped with quattro four-wheel drive system, this four-wheel drive system can make the power in accordance with the 4: 6 ratio distribution, but with the driving situation changes, this scaling also will changes. Meanwhile, the car also equipped with adaptive air suspension system, and can be optional dynamic steering system.
In more strong power blessing, these two cars 0-100km/h acceleration time can reach 3.7 seconds, 0-200km/h acceleration time is 12.1 seconds, compared to regular edition models were improved 0.2 seconds and 1.4 seconds. Audi offers two performance package for the new car, make its maximum speed limited to 250km/h or 280km/h. But Audi also said that in the case of the owner needs, the car's maximum speed limit can raised to 305km/h. In addition, in fuel consumption, RS 6 Avant high-performance version 100 km combined fuel consumption is 9.6L, RS 7 Sportback high-performance version 100 km combined fuel consumption is 9.5L.
In test part, these two cars all can still use vas 5054a to diagnosis all the system. Vag vas 5054a with the latest odis 2.2.4 software is used for VW group cars include VW,AUDI,SKODA,SEAT,Bentley and Lamborghini. Our VAS 5054A Diagnostic Tool with Bluetooth function and full chip OKI for UDS vehicles.
More related topics
The new Audi A4 allroad released in March 2016
Toyota Release Tacoma pickup truck Special Edition